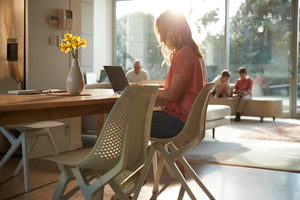 Welcome to noho!
Whoever said: "starting businesses isn't for the faint of heart" and, "you'd better get comfy with uncertainty" was right on the money! But even they couldn't have imagined launching a business in the midst of a global pandemic.
When we began the noho journey, we were determined to tackle some of the world's great challenges, starting with transforming comfort & well-being in the home whilst tackling plastic pollution. We couldn't have imagined how challenged the world would become. But through this we'll grow. We have real hope that the current sense of global unity in the face of adversity, and the power of design to solve the great challenges of the day, will enable us to once again turn our minds and efforts to winning the plastic and climate battles.
For now we're all learning to adjust. To evolve our lifestyles, work, community, relationships, and homes. Launching a business right now might be untimely, but the noho moveTM chair offers a whole new world of comfort at a time of historical discomfort. Especially as we all juggle working-from-home, home-schooling, dining, and every other home activity, all around the hub of our homes: the dining table!
As we open for business, auspiciously on World Earth Day, we want to wish you all good health, safety and comfort. As we say in Te Reo Maori (New Zealand): noho ora mai (Stay well).
Richard
---